Your favorite streamer is Pokimane. Her League of Legends expertise has inspired you to get better at the game yourself. There's just one thing missing from your gaming setup: the same type of chair Pokimane uses. Which gaming chair is this?
Pokimane currently uses the Noblechairs EPIC gaming chair. It's appropriately named for an epic gamer such as herself.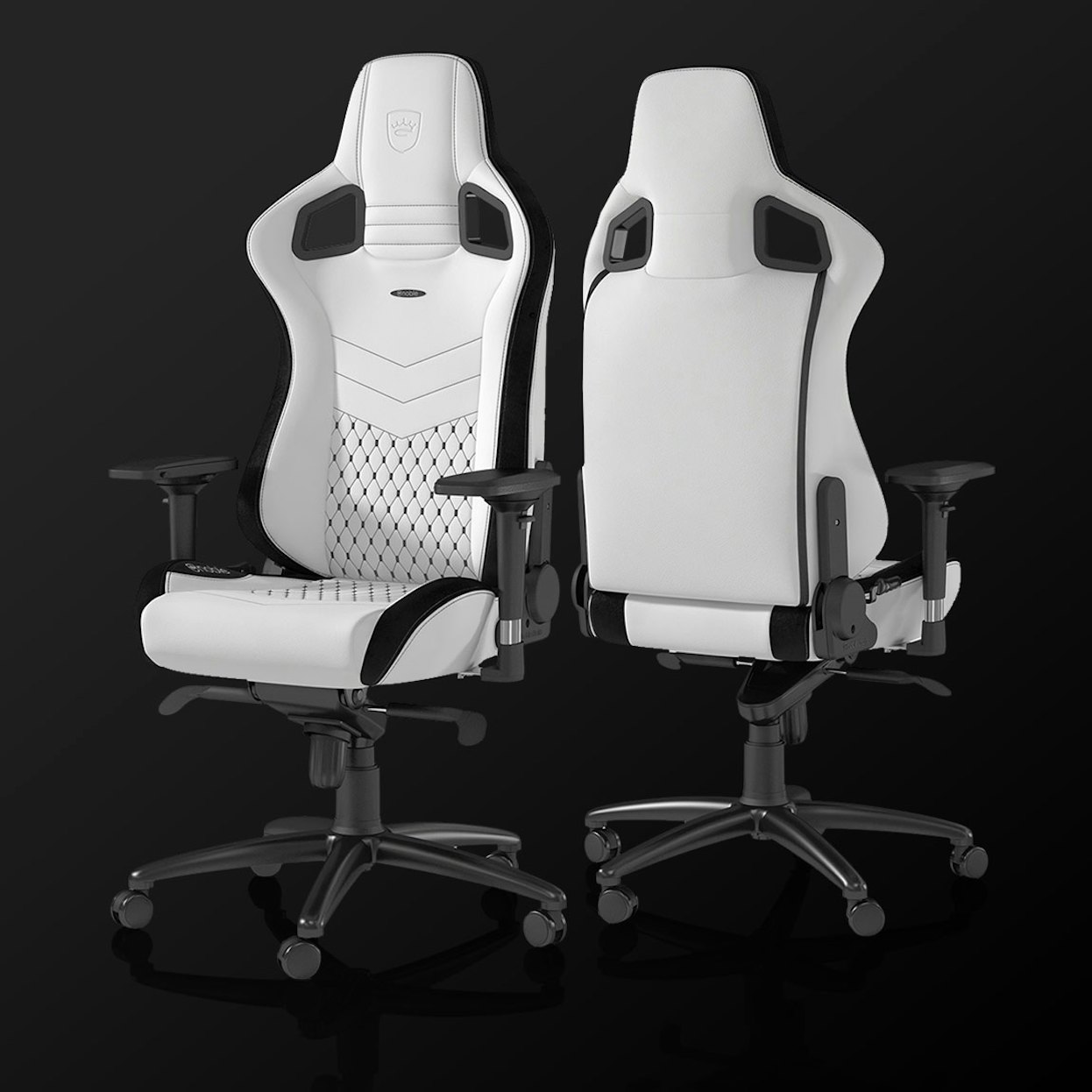 In today's article, we'll tell you everything you need to know about Pokimane's gaming chair. From a list of features to where to find the chair and how much you'll pay for it, you'll be ready to play like Pokimane in no time!
Pokimane got her start in 2013 when she began her Twitch channel. By 2017, she had gained 450,000 followers on the platform. This put her squarely in the top 100 most-followed accounts. That was the same year she won the Best Twitch Streamer of the Year award from the Shorty Awards.
As we said before, Pokimane mostly plays League of Legends on her streams, but she also got into Fortnite. She even participated in a sponsored pro-am event for the game at E3 2018. By the middle of 2019 though, Pokimane decided to scale back on her Fortnite streams. She wasn't super thrilled in the direction of her content.
The E3 Fornite event wasn't the end of partnered events with Pokimane, not at all. That same year, she teamed up with Twitch as one of their ambassadors for TwitchCon 2018. Only 14 other people were selected, making this a very big deal. She also participated in the Twitch Creator Camp in 2018.
Besides her work on Twitch, Pokimane has a huge YouTube following. Her two channels, Poki ASMR and Pokimane, are very popular. Her eponymous channel has gaming, podcasts, and vlogging. The ASMR channel is full of relaxing video content.
Her main work on YouTube is as part of Offline TV. This is a content creation hub on YouTube that connects streamers. She also found time to act in Free Guy, a film by Shawn Levy set to come out in June 2020.
The Poki ASMR channel has 77.8 million YouTube views and 667,000 subscribers. Her main YouTube channel, Pokimane, is even bigger, with more than 394.8 million views and over 4.82 million subscribers. On Twitch, Pokimane has 107 million views and 4.5 million followers.
Pokimane's Gaming Chair Features and Benefits
Next, let's introduce you to Pokimane's gaming chair. This is Noblechair's EPIC, and it's every bit as cool as the name implies.
Noblechairs is a gaming chair production company. Besides the EPIC line, they have two other gaming chairs, the ICON and the HERO. You can also pick up accessories like footrests, memory foam pillows, cushions, and gas lifts through their website.
The EPIC chair is one of the most beloved chairs by Noblechairs. Let's take a closer look at the features of this incredible gaming chair so worthy of Pokimane.
Strong, Sturdy Base
The toughened aluminum used to make the base of the EPIC chair is powder-coated in a sleek matte black. It's strong too, as the chair can hold 265 pounds.
Noblechairs created a balanced base with five arms for the EPIC. This makes backrest reclining easy, even if you go all 135 degrees. There's never any risk of tipping and feeling less than stable.
Smooth Casters
For all five arms, there's a caster wheel for each. These are covered in polyurethane and have a core made of nylon. Do you have carpeting? Maybe hardwood floors? No problem, as these casters can travel over both types of flooring without making a sound or getting stuck.
4D Armrests for More Adjustability
Today, 3D armrests are simply not enough. For the ultimate gamers who need all the flexibility they can get, 4D armrests deliver. You can set the armrests' tilt and vertical height as well as adjust them laterally and horizontally.
The EPIC chair has polyurethane armrests with slight texturing for long-term comfort. You could even do work in this chair, it's that nice to use.
High-Quality Materials
All the PU leather used in the EPIC chair is genuine vegan leather or Nappa leather. Both improve the overall look of this sleek gaming seat. The same can be said for the stitched panels throughout.
The EPIC chair, despite being covered in leather, resists moisture buildup and UV damage. Whether your chair is black or has some color, you can worry less about the sun ruining its look.
Beneath the upholstery is cold foam. This high-density material allows for awesome weight distribution so you don't end up achy and sore after hours of gaming. Once the EPIC chair molds to your body, the cold foam helps the chair hold that shape, too.
Ergonomics and Support
Your comfort is a primary concern of Noblechairs. That's why they included dual lumbar and neck pillows with the purchase of the EPIC chair. Both pillows are made of the same premium leather. They feature branded stitched logos and are removable.
Fantastic Rocking
The rocking mechanism, which is integrated into the chair, is another big talking point. You can lock the setting at any time. Just use the lever at the side of the chair to do it. Whether you like the seat pan or backrest angle, you can set the chair just where you want it.
Color Variety
An all-black chair is cool, but what if you like color? Noblechairs gives you the option. The EPIC comes in hues like white with black stitching, black with green stitching, black with blue stitching, black with red stitching, and black with yellow stitching.
Where Can You Buy Pokimane's Chair?
You can't wait to buy a chair like Pokimane's. Where can you find the EPIC from Noblechairs so you can order it right away? Here are some online resources to pursue.
Noblechairs
Noblechairs' website is the place to buy your EPIC chair just like Pokimane uses. This is direct from the manufacturer, so you have the most customization options. Use the link from the last section to get started shopping!
Noblechairs' Resale Partners
The cool thing about Noblecchairs is they have a ton of resellers they partner with. This makes the EPIC and their other gaming chairs much more widely available. Also, no matter where you live, you're not paying astronomical shipping fees just to get the gaming chair to you.
Some of Noblechairs' resale partners are based in these parts of the world:
Sweden
Lebanon
Spain
Denmark
South Korea
United Kingdom
Japan
Russia
Costa Rica
Italy
China
Singapore
United Arab Emirates
Canada
Portugal
Germany
Greece
Thailand
Brazil
France
Finland
Switzerland
Lithuania
Australia
Amazon
Outside of Noblechairs and their resale partners, you can always count on Amazon. Their version of the EPIC gaming chair comes in black with red stitching. You might not be able to change the color, but you still get all the other great features found in the EPIC chair that we talked about above.
Champs Chairs
One of Noblechairs' US-based resale partners is Champs Chairs. You can get many colors of the EPIC chair here. If you like other Noblechairs offerings, like the HERO, you can also find this on Champs Chairs' website.
How Much Does Pokimane's Chair Cost?
Woohoo! You've now got lots of great options for buying Pokimane's gaming chair, the Noblechairs' EPIC. How much cash should you set aside so you can sit in comfort like your favorite streamer?
That depends. Using the pricing on Noblechairs' website, if you order the EPIC chair with PU leather, it will cost you $427. If you'd rather your chair be coated in gorgeous, supple real leather, you have to pay more for it. The chair price increases to $693. A combination of PU hybrid leather and vinyl is less expensive at $529.
If those figures are a little too high, on Champs Chairs, the EPIC costs $419.99 before tax and shipping. Still, their less expensive seat don't include real leather bases. You'd still pay $599.99 for this luxe upholstery.
Even the ICON with a real leather base is priced at $579.99 on Champ Chairs. If you want the real deal when it comes to your upholstery, there's no way around the higher price tag.
Should You Buy Pokimane's Chair?
Is it within your best interest to part with more than $500 for the EPIC gaming chair? That's a question only you can answer. That said, we can help. Here are some points to consider as you make up your mind.
This is the same gaming chair Pokimane uses! If she's your favorite streamer, then having something she does is really cool.
For the money, you're getting a beautiful, high-quality chair. The more expensive materials are sure to last for years.
You can show off to all your friends and tell them you have the same gaming chair as Pokimane.
If you're an aspiring streamer, a chair like this will win you major points among your audience.
The comfort and ergonomics of this chair make gaming for hours super cozy.
Alternatives to Pokimane's Chair
For whatever reason, you can't get the same chair as Pokimane, at least right now. It's definitely a goal of yours, but it will have to wait. You still need a gaming chair that will impress your followers, though. What should you use?
Any of these three chairs on Amazon are very suitable alternatives. Let's take a closer look.
The tall backrest is for more than just making this chair resemble the EPIC. DXRacer's gaming chair is designed for spinal and neck support. The flexibility of the seatback lets you set it many ways for optimal comfort.
Adjustments can be made to the seatback as well as the armrests. These move three different ways for better wrist and shoulder support. You even get a lumbar and headrest cushion for plush sitting.
DXRacer offers two warranties on the Racing Series Gaming Chair. Parts are protected for 24 months under the warranty and the frame has lifetime protection coverage.
The high-density foam retains its shape like the EPIC does. The S-Racer also has a thickened steel frame, elasticity resistance, and PU leather upholstery. If you're looking for adjustments, you got 'em. You can rock the chair, recline it 90 to 180 degrees, and swivel 360 degrees.
The Homall S-Racer includes five rubber casters. These were tested for durability at 1,000 rolling miles. The SGS-approved gas lift is Class 3. This gaming chair comes in color schemes like black and white, black and red, black and gray, or black and neon purple. The S-Racer supports 300 pounds max.
The chair measures 21.26 inches wide by 20.86 inches tall. The height of the chair starts at 48.82 inches, but you can increase it to 51.97 inches. With a bigger, wider seat, GTRacing's chair is great for gaming, studying, working, and everything in between. That seat is 19.68 inches wide by 16 inches long.
A PU leather base is reminiscent of the EPIC. You'll also find plenty of other similar features, such as headrest and lumbar pillows and a five-point chair base. Move this way and that with 360 degrees of swiveling, rocking, reclining 90 to 170 degrees, and adjustments to the armrests.
The GTRacing Racing Style Gaming Chair comes in three colors schemes: black with red, black with blue, or all black.
Conclusion
Pokimane is a famous Twitch and YouTube streamer known for her League of Legends gameplay. She favors Noblechairs' EPIC gaming chair. This high-quality, leather-coated seat offers hours of comfortable gaming.
Now you know just where to find an EPIC chair for yourself. You also have a few other recommendations that are just as good. Your gaming is about to go to the next level!